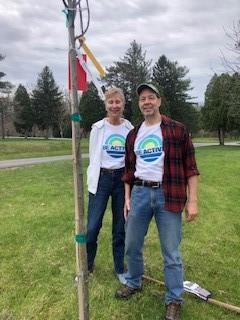 True Friends of Gifford Pinchot State Park
On Saturday April 23rd, Senior Underwriter Jane Plisko, her husband Keith, and Vice President – Managed Business Kevin Troutman volunteered together with the organization Friends of Gifford Pinchot State Park to plant trees and clear trails to celebrate Earth Day.
Gifford Pinchot State Park is a 2,338-acre full-service park in northern York County, Pennsylvania. In 1898, Pinchot became the head of the Division of Forestry, which was part of the United States Department of Agriculture. He is known for reforming the management and development of forests in the United States and advocating for the conservation of the nation's reserves by planned use and renewal. Pinchot's ideas are alive and well in these preserved grounds. The park boasts farm fields, wooded hiking trails and the 340-acre Pinchot Lake—a prime attraction for boating and fishing.
"We had a fun time and enjoyed volunteering for a great Earth Day cause," says Troutman.
For more information on how you can help and enjoy Gifford Pinchot State Park visit dcnr.pa.gov.