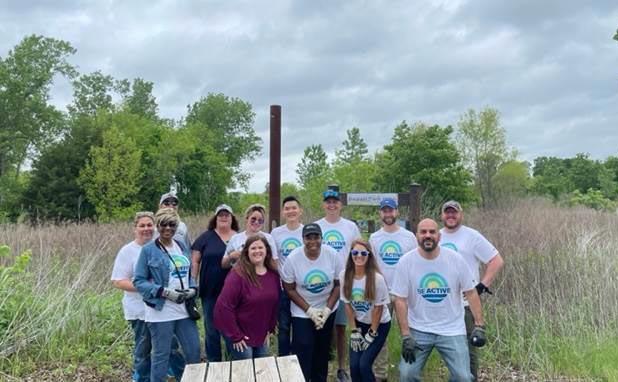 Helping Out with Habitat Work Day: Trinity River Audubon Center
On April 29th, our Dallas office donated their time and resources to assist the Trinity River Audubon Center with Habitat Work Day. Throughout the day, team members helped clear and expand existing trails, remove invasive species, or restore prairie, forest, and wetland habitats.
Trinity River Audubon Center has been welcoming visitors to its sanctuaries since 2008. What's more, they've been inviting them to actively participate in nature education programs. It's an innovative approach that not only preserves open space to protect wildlife and native habitat from people—but to truly engage people in its conservation through learning and exploration.
"Our Dallas team had a blast volunteering at the Trinity River Audubon Center. We were eager to take part in habitat restoration which included removing invasive plant species, plant propagation and trail maintenance. A big thanks goes out to the great people at the Trinity River Audubon Center for letting Berkley Environmental do our part to help the sensitive ecosystem around the Trinity River!" says Regional Vice President Jason Wren.
The Center encompasses more than 6,000 acres of the Great Trinity Forest and is known as the largest urban hardwood forest in the U.S., supporting countless numbers of some of the most diverse animal and plant species. Above all, the nonprofit strives to assist Audubon in their Mission: To protect birds and the places they need, today and tomorrow.
"I love working for an organization that believes in giving back to the local community. It was great to work alongside many of my counterparts while we helped support the Mission of the Trinity River Audubon Center." says Sales Executive Jared Peel.
Learn more about the Trinity River Audubon Center and ways you can support a center near you at https://trinityriver.audubon.org.